Intelligent design paints more than a pretty picture
Client – Dublin City Council Libraries developed Dublin's one city, one book festival from modest beginnings in 2010. At Yellowstone, we have worked with them on a number of projects over many years.
Challenge – Oscar Wilde's iconic novel 'the picture of Dorian Gray' was the selected title for Dublin's one city-one book festival in 2010. Yellowstone was commissioned to develop an exhibition around the key literary and cultural themes of the book and its historical context. Doing justice to one of Ireland's most celebrated authors and delivering an exhibition which tackled the dark undercurrents of this classic gothic novel remained the major challenge on this project.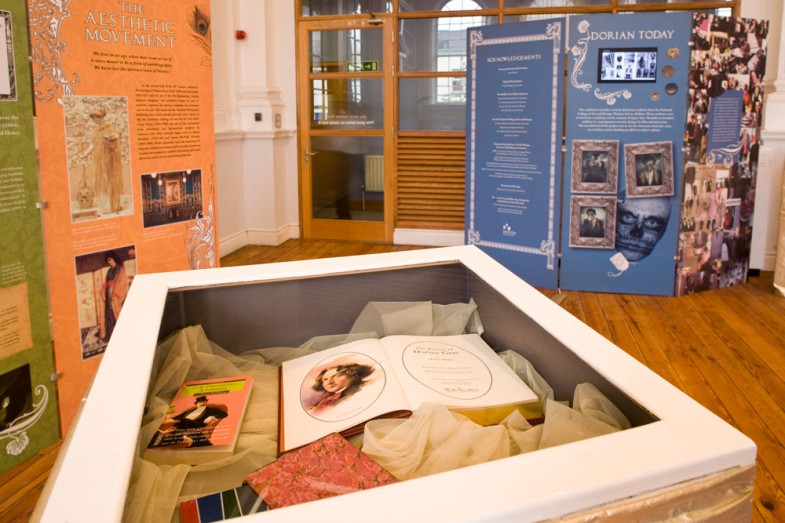 Work – Incorporating both traditional exhibition-style panels and costume set design, this project required an ability to merge both platforms and deliver an engaging exhibition. Working with costume and set-designer, Inez Nordell, as part of her research project for a master's in Costume for Performance at NCAD, an exhibition was developed to contextualise 'the picture of Dorian Gray' within the aesthetic movement and to demonstrate social parallels in the present day. The design phase centred on identifying the significant themes, isolating them sufficiently to be explored but also ensuring their role as part of the overall narrative was apparent.
Results – The festival has grown from a small-scale book promotion by Dublin City Council Libraries to a multidiscipline event held in venues throughout the city. And by holding engaging exhibitions just like this one exploring the books themselves, it's expected to continue growing in the years to come. The exhibition was scheduled to tour and was designed as a series of inter-linking panels and stage set dressing for the main venue in Pearse st library in Dublin.